I find myself slightly confused as I sit here writing this. It has been a long time (I last wrote a piece in November 2014 following the 2014 invitational) and it all has the feeling of a beloved winter coat that got too small for me and I now find that I can once again wear it comfortably. It feels both familiar and strange at the same time; like an alien landscape on a far away planet filled with familiar things.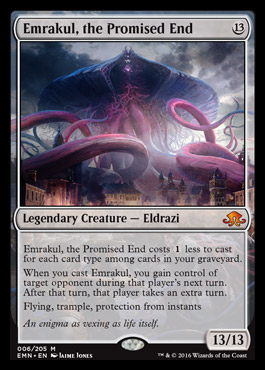 Wait, what? Emrakul is on Innistrad? Oh yeah someone told me at Shadows pre-release...
So let me give you a quick history lesson and then explain why I am "back". Way back in June 2012 Sheffield Magic the Gathering was not in a good place. FNM had become very cut throat and numbers had dwindled to virtually nothing as we struggled to get 6 people on a Friday night. There was a long discussion thread on Facebook, I upset people, Wizards of the Coast saw it and rang Jim. I came up with the idea of running more than one FNM, people said I was nuts as we couldn't get one to fire let alone two. I did it anyway, FNM relax and Elite were born, Relax was a great success. I approached Jim and Paul with the idea of running an Invitational tournament over a whole weekend, that went pretty well too. We tried different ideas for Relax: some worked (2 Headed Giant, Relax Draft) some didn't (Relaxed Legacy - we really tried though).
I still love this guy...
On the 5th of July 2013 I quit Magic following my son's departure and that should have been that. In June 2014 I found out that I was to be a father once again! I would then discover that we were having a boy and I thought of all the hours and hours that Rob and I had spent playing Magic and the great people we had met and become friends with so I decided to get some MTG cards again and played in Khans pre-release to get me some of those sweet fetch lands as reacquiring my favourite EDH decks. In January 2015 my son James was born. I've not had a great deal of time for anything since then.
A few months ago following some chest pains I found that I am not very well; I have a heart condition which is still being investigated, high blood pressure and Diabetes. One of the things I wanted to do was get back to playing some Magic so I have Friday nights off to come to FNM. As Ian has gone off to Shanghai I will be getting back together with my old comrade Mark Smith to bring you FNM each week.
I will also be looking at how we can improve what we are doing and try out new things. I am really interested in getting feedback from the people who come and play about what they like. I am also really looking forward to catching up with old friends as well as making new ones.
So I will see you all this Friday where we have Standard, Modern and Draft available as FNM options and don't forget this Saturday is the Bring Your Own Boosters PPTQ at Patriot starting at 10am, full details can be found here.
See you all on Friday and
Go wreck 'em dead.